Location: IT Park, Cebu City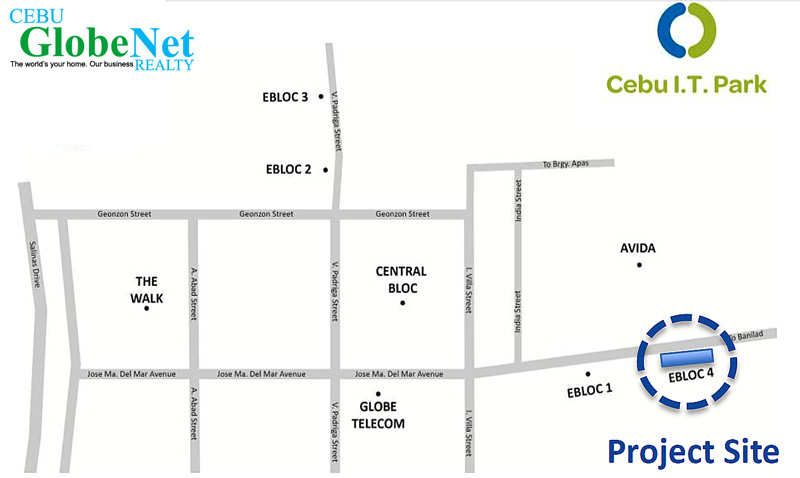 Located in Cebu IT Park, a vibrant 27 hectare master-planned development and home to over 70% of Cebu's BPO industry. The area is recognized by Philippine Economic Zone Authority Board (PEZA) as an information Technology Park and was granted Special Economic Zone status in 2001.
Project Specifications
Total number of floors: 12
Number of office floors: 7
Number of retail floor: 1
Number of podium parking: 4
Density ration: 5 sqm / person
Total office GLA: Approx. 15,150 sqm
Total retail GLA: 2,489 sqm
eBlock4 is an innovative addition to the growing Cebu Business Process Outsourcing (BPO) market. The Building makes use of environmentally sustainable design practices through energy-efficient electrical, air-conditioning and water-efficient plumbing systems. This project houses a large retail provision and easily accessed landscaped storefronts at the ground level to cater of the needs of the BPO workers 24/7. The building also houses an expansive open air podium, which accommodates ample parking slots for retail and office needs.
Utilities & Amenities
Floor to height is 3.70 m
Finished floor ceiling height is 2.70 m
Redundant cable risers for 27/7 operations
100% back-up generator
Four telecommunication carriers
4 passenger lifts
1 service lift
1 passenger lift with direct podium access
Equipped with energy efficient building management system (BMS)
Strategically located building cameras (CCTV)
Floor Plans