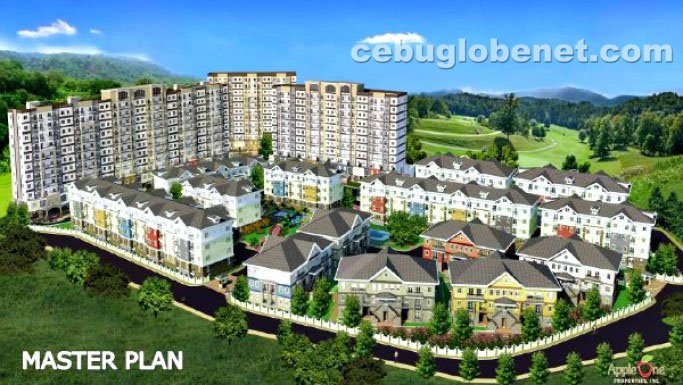 Location: Good Sheperd Road, Banawa, Cebu City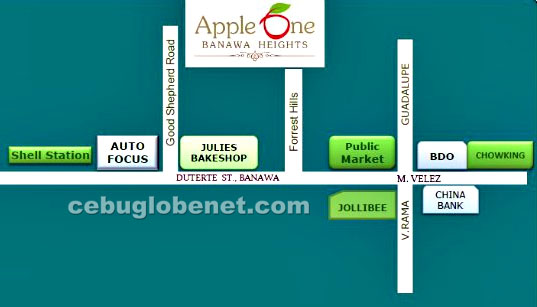 Apple One Banawa Heights is a 2.8-hectare residential Condo development. Positioned as a private and exclusive, distinctly themed gated subdivision. A first-of-its-kind in Cebu City.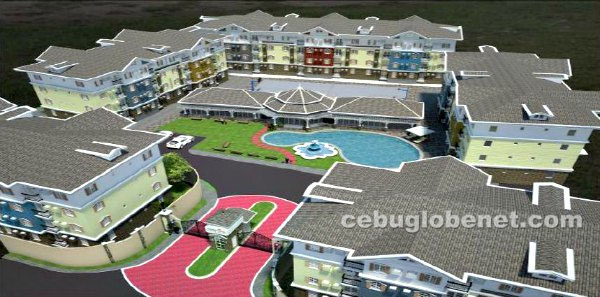 Amenities
70% open spaces, which include a fully landscaped subdivision with generous walkways, jogging trails, and pocket gardens
Keyless Access Control – a first of its kind in Cebu
5 Swimming pools
Multi-function Gazebo
Grand Fountain
Grand Entrance Gate
Parks and Playground
Basketball Court
Gym
Boutique Shops
Alfresco Café
Convenience Stores & other retail establishment to answer the needs of the residents
Underground electrical system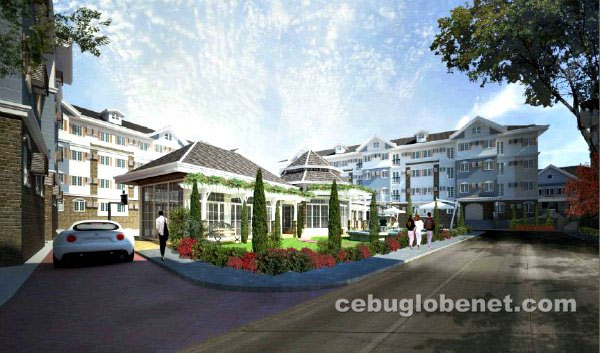 Accessibility
Schools - Evangelical Theological College, Emmanuel College, Banawa Elementary School and Guadalupe National School
Banks - China Bank, BDO, RCBC, PS Bank, Metro Bank, BPI and East West Bank
Supoermarkets and Public Market - Rustan's Supermarket, One Pavilion Mall and Banawa Public Market
Restaurants and Fastfood Chain - One Pavilion Mall, Rustan's Commercial Complex, Jollibee, Chowking, Dimsum Break and etc.
Churches - Living Word Christian Mninistries, Church of Nazarene, Baptist Church, Alliance of Two Hearts Church, Guadalupe Church and Sovereign Grace Church.
Hospitals - Chong Hua Hospital, Don Vicente Sotto Memorial Medical Center, Cebu Doctors Hospital and Visayan Community Medical Center.
Government Institutions - Capitol and Court of Appeals
Site Development Plan
Towers Model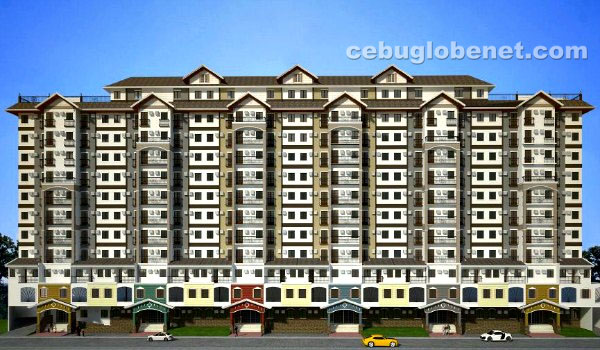 There will be three (3) 12-storey Condo towers inside the community which are strategically located at the highest point of the property. Each tower provides the majestic view of the sea and the city, from the higher floors.
The Condo towers are in 6,4 or 3 private clusters.
Each Private Cluster will be provided with exclusive elevators, for only 49 residents And there will be 5 units in a floor.
Amenities for each condo tower are located at the penthouse to include a swimming pool, an outdoor lounge and rooftop pocket gardens.
Studio Unit

Floor Area: 24 sqm
Fully-finished and 1 Toilet and Bath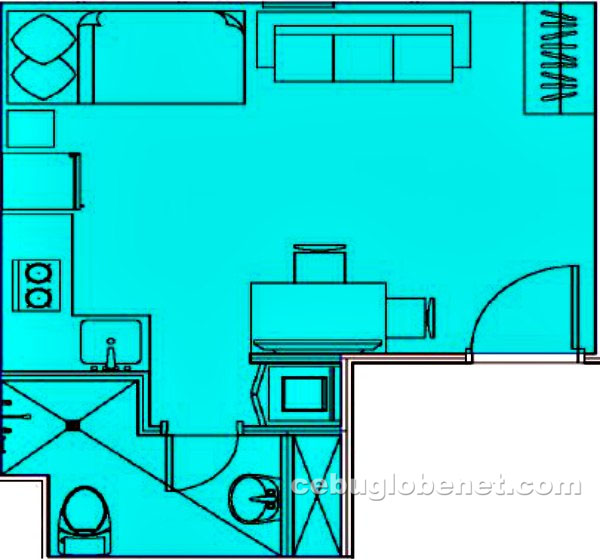 One Bedroom Unit
Floor Area: 30 sqm
Fully-finished and 1 Toilet and Bath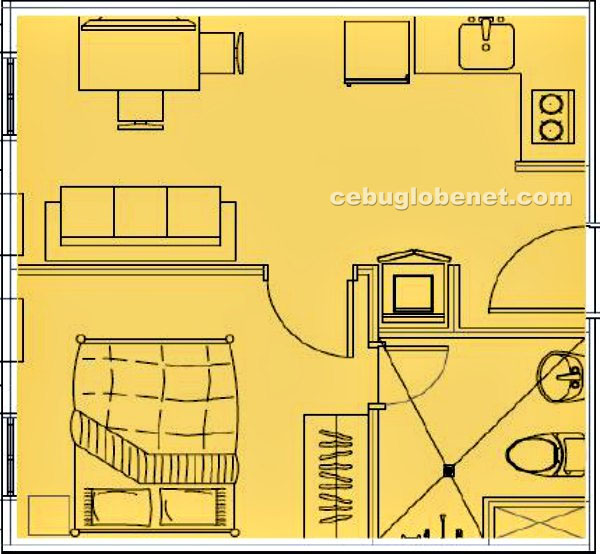 Villas Model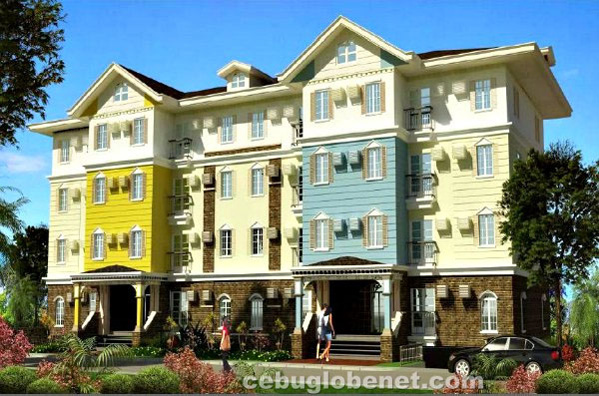 There are two (2) types of Condo Villa: 2 Private Cluster and 3 Private Cluster. Each Villa has 4-storeys Walk-up Condo.
Each Private Cluster have a maximum of 23 residents, with six (6) units per floor. In between each buildings are landscaped garden.
Amenities that includes a grand fountain, fully landscaped gardens, multi-function gazebo, boutique shops, swimming pool, parks and playground and basketball court, are located at the center of the development.
One Bedroom Unit
Floor Area: 30 sqm
Fully-finished and 1 Toilet and Bath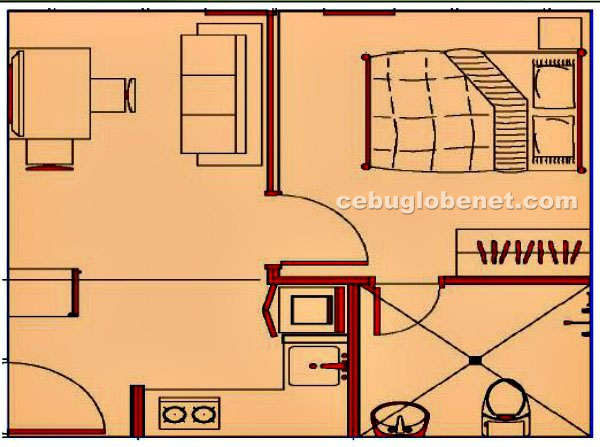 Mansionette Model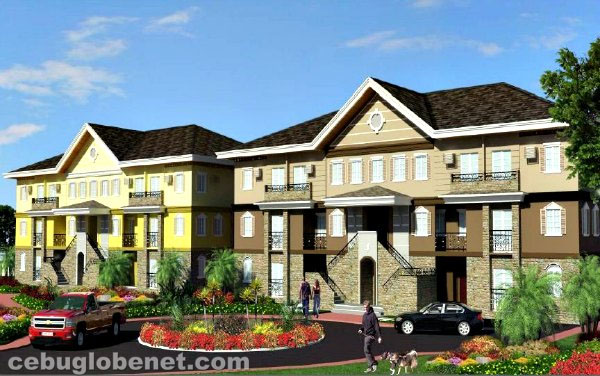 Limited to 6 buildings only.
Set in a private enclave with its own entrance
Each Condo Mansionette has 3-storeys, walk-up, with 2-private clusters back-to-back.
It has a "mirror-effect" design.
There are no rear entrances. The facade of the building has a back-to-back entrance.
Residents will be provided with its own swimming pool and a mini-park. Pocket gardens and winding landscaped areas, park benches and lampposts are part of the design that render the Mansionette a very charming place to live in.
Two Bedroom Unit
Floor Area: 38 sqm
Fully-finished and 1 Toilet and Bath
Two Bedroom Unit(2)
Floor Area: 40 sqm
Fully-finished and 1 Toilet and Bath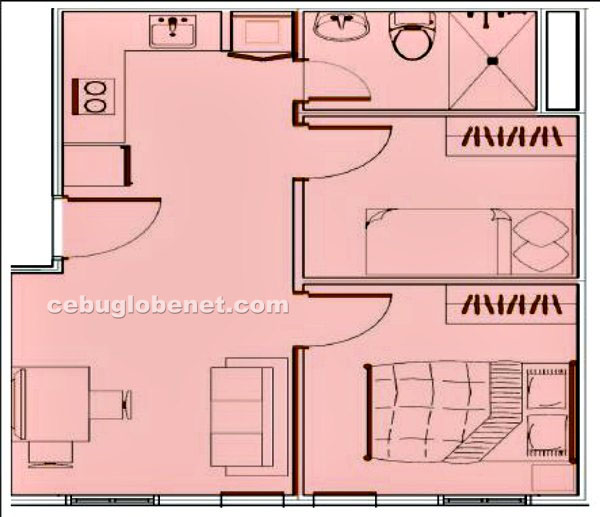 Sample Computation